Do you know, which port are the leaders when it comes to container operations? Let's find out! Below we listed TOP 10 of the ports and some informations about each and every one of those.
10: Tianjin /  Xingang
Tianjin is the biggest port in northern China. It is known as the "gateway to Beijing". Tianjin is a historic port andimportant commerce center since VI century. In 1860 it oficially became internationally recognized one. Today over 13 million TEU-s pass it's gates on yearly basics.
source: siteselection.com
9: Dubai / Jebel Ali
Jebel Ali is the biggest port in the world that was entirly sonstructed by man. There were no natural conditions for it's existance, so the whole area and all of the qauys were mound. The attached city was build just for the workers. It was built in the 70s. It is very close to Dubai – only 35 kilometers west. It is the biggest port in the Middle East, and it's still growing. The plans of the port authorities are pretty impresive – beforyear 2023 they plan to be operating 55 million TEU every year!
source: thebig5hub.com
8: Qingdao
Quingdao lays in the eastern China. It's been one of the biggest players on chinese market for a while now with 16.6 million containers operated in 2014, but it's authorities' plans are very ambitious. They want to become a leader not only in China, but in whole Asia. Preliminary agreements with feeder operators and ports in South Korea have already been signed, but we will have to wait few more years to see if these prediction will become true.
source: 123rf.com
7: Guangzhou
Yet another port in China. Despite it's unfavorable location (the area around this southern port used to be very poor, then many factories were built around, living level was rised and now the factories are pushed further back into the country) is keeps getting more and more containers every year.
source: 4.bp.blogspot.com
6:  Busan
This port in South Korea has realle picturesque views. However it was not very developed until lat 90s. Since that time it grew to become the most important port in Korea. It lists steady growth and is ofetn used as a hub for cargo on it's way to Japan.

source: marinelink.com
5: Ningbo
Almost 5 million TEU throughput  in 2014 gave this Chinese port 5th location on this list. This is the only port that has listed two-digit growth during that hard time – as much as 12%! It broke another record in 2015 and it seems it will climbe higher and higher in the list in the coming years.
source: dreamsite.com
4: Hong Kong
It's been number one on this list many many times. Perfect natural conditions and large hindport made Hong Kong an icon of container transport. Even though it's position is still pretty high, it has recently seen some decrease in the nuimber of TEU throughput.
source: citi.io
source: licdn.com
3: Shenzen
On the other hand, Hong Kong's close neighbour, Shenzen, has seen small but stable increase of the number of containers that ngo through it's gates. Port of Shenzen is in fact a collective name for a few big terminals in the Guandong province in China – as an examplem Shekou, Yantian and Chiwan and others in the Pearl River's delta. It is a huge area that has 260 kilometers of shoreline – huge potential for future growth.
2: Singapore
Singapore is the main hub for the whole south-east Asia region. It started it's commercial activity at the beginning of XIX century. IN 2014 it celebrated 500 million-th TEU operated throughout it's history!
source: bingwallpaper.com
Miejsce 1: Shanghai
Shanghai has been number 1 since 2009. In 2014 it broke the world record in the number of containers operated during 1 year – 35 million!
Shanghai wasn't particulary significant port up until the beginning of XX century when it became the biggest port of East Asia. The new terminal artficially built on the open sea – Yangshan – allowed it to take the lead in the region. It is strategically located right in the middle of the longest, eastern shore of China and therfore has an amazingly huge hindport.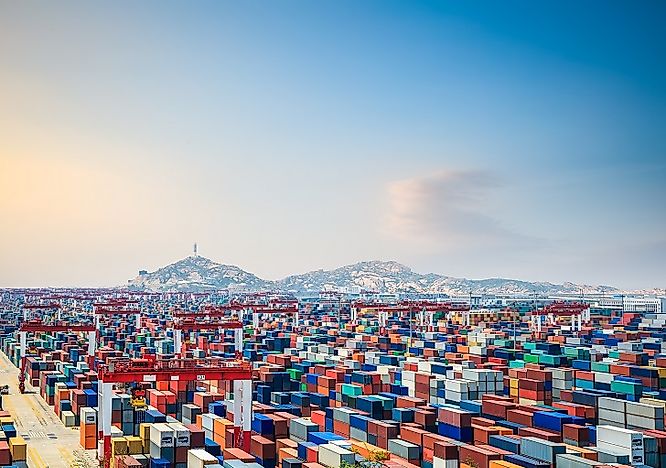 source: worldatlas.com
---